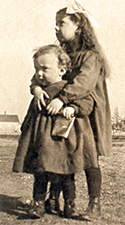 Welcome!
We are an all-volunteer group dedicated to telling Burnsville's story in a way that engages folks of all ages. You are invited to help. Perhaps you have photos, scrapbooks, or stories. Maybe you have questions, such as "What was the name of that restaurant I used to love?"
The most frequent question we hear is "Where is the museum and what are your hours?" Presently we have no permanent display space. We are, however a creative ONLINE historical society and we aim to be the best there is. When we are able, we also put on Exhibitions at Burnsville's Ames Center.
It absolutely DELIGHTS us that people from all over the world with a connection to Burnsville are enjoying its history with us!

Learning about one's community is rewarding, humbling, and very enjoyable. Join us! Support us! Consider volunteering a couple of hours a week!
Why history?
At our first Ames Center Exhibition in 2013, we displayed a huge satellite map of Burnsville. Like many visitors, a man stood in front of it, his finger touching a spot. He said,
"This is where I live. I want to know who lived there before me, who farmed here. What crops did they grow; where did they come from? I want to know because I want my children to know. I want them to know that we're all connected."
By the way, the photograph at the top is of Allen and Edith Rutherford. It was taken in about 1902. We'll have the full picture on display in our online gallery as soon as possible.